Oppo Find X leaked image shows a Curved Screen, Android 9.0 (P) and many more
Just after the specifications of Oppo Find X coming flagship was leaked yesterday by a Twitter user "@IshanAgarwal24" which revealed most of the smartphone's specifications.
The Oppo Find X is rumored to be coming with a 6.4-inches of 1080 by 2340 pixels with curved Super AMOLED display from Samsung. The smartphone will be powered by a powerful chipset "Snapdragon 845" with 8GB of RAM and 128GB internal storage which is going to be supported by a MicroSD card up to 256GB, and a 3,730 mAh battery capacity.
Meanwhile, as at the time of the leak, there was no specific image to back the leaked specifications. However, an image has appeared through another Twitter user which reveals the front-facing image of the Oppo Find X, although there is not so much to draw from the image it still gives much of the needed pieces of information.
As shown in the image above the front panel of the device is not so detailed as it is almost black, but shows some of the information which includes the edges of the display is curved, but the black front does not reveal a notch display or not (this should be known in no time as we are getting closer to the launch date).
The image also reveals that the bottom of the smartphone will have a LED pulse notification light which is quite colorful. In addition, there is a screenshot for the system information of the smartphone in the settings menu which confirms another storage variant of 195GB.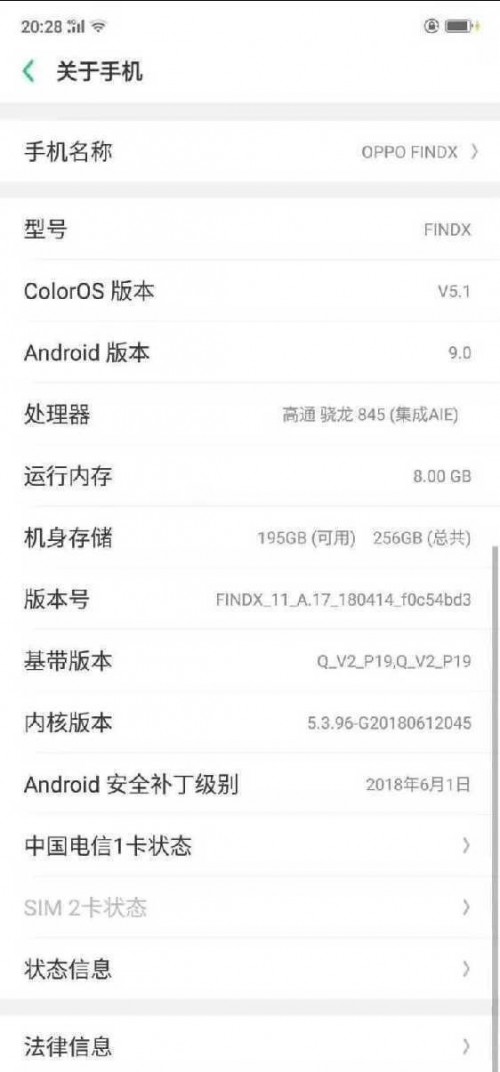 And also the screenshot shows that the Oppo Find X will be running the latest OS "Android 9.0 (P)" with Oppo's own custom UI of "ColorOS 5.1". However, this should be taken just with a pinch of salt as the latest Android OS "Android 9.0 (P)" is said to be ready by September which shows that there are some miss up somewhere as the device is set to be launched by June 19 in Paris and the global roll-out to begin anytime soon.
Concerning the camera, the device will have a dual rear camera with a sensor of 20MP (f/2.0) and a 16MP (f/2.0) with 5x optical zoom while the front-facing camera will have a 25MP (f/2.0) sensor.
And also the placement of the fingerprint sensor is yet to be known and the kind of technology to be used whether a rear/front fingerprint scanner or an in-display fingerprint scanner is yet to be known but a leak suggests it will have an in-display fingerprint sensor.
You may be interested